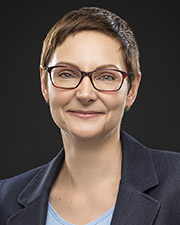 Veronica E. Aplenc
Adjunct Assistant Professor and Program Manager
Graduate School of Education
University of Pennsylvania
Phone:

215-746-2566
Professional Biography
Veronica Aplenc has been a Program Manager and member of the associated faculty in Teaching, Learning, and Leadership since 2011. Her research interests center on Yugoslavia, its everyday environment, and modernity, and her work has had both an archival and an ethnographic focus. Aplenc research projects have focused on the historic built environment, vernacular architecture and landscapes, and folklore (ethnology) in the former Yugoslavia. She has additional interests in the history of museums, museum education, and folklore education. She has been active in the study of heritage management, as well as in its practice. Before coming to Penn GSE, Aplenc's professional work included site management, exhibit coordination, historical research, and archives consulting. Her research work has been supported an IREX Public Policy grant and a Fulbright grant.
Aplenc has published on folk arts, industrial design, and urban planning in Yugoslavia, as well as historic preservation in Czechoslovakia. She has participated in international collaborative research and publication projects, including a 2012-2013 project on socialist-era heritage with the Slovenian Academy of Arts and Sciences, and a 2015-2016 educational exchange with the University of Ljubljana.
Aplenc has developed and taught courses on museum education, qualitative modes of inquiry, the historic built environment, the politics of culture, folklore, and the history of socialism. Her research work has been supported an IREX Public Policy grant, and a Fulbright grant, and a Kress Foundation grant. At Penn, Aplenc is a member of Penn REEES (http://ccat.sas.upenn.edu/reees/).
Office hours in Fall 2017 and Spring 2018: Thursday, 9-11.
Research Interests and Current Projects
Dr. Aplenc's current research projects fall at the intersection of architectural history and folklore concerns, with a particular focus on the negotiation of modernity under socialism. Her current main research project traces the development of a modern neighborhood in the Slovenian capital of Ljubljana under Yugoslav state socialism. This interdisciplinary monography outlines the interplay of multiple interpretations of a modern built environment that ultimately led to the successful physical and symbolic transformation of an iconic, village-like gardening neighborhood into a socialist district dominated by high-rises and single-family homes.
Education
Ph.D. (Folklore and Folklife) University of Pennsylvania, 2005.
M.S. (Historic Preservation) University of Pennsylvania, 1997.
B.A. (Russian, Soviet & East European Studies) Williams College, 1990.
Areas of Expertise
Everyday built environment, 20th-century Yugoslavia, ethnology/folklore, museum education.
Selected Publications
"Vernacular Architecture (Un)Defined for Socialism: Slovenian Dislocation from the Temporally Defined Past," in European Architectural History Network Conference Proceedings, forthcoming.
"Held in Suspension: Competing Discourses on Urban Modernity in 1960s Slovenia, Yugoslavia." In, Patrick Haughey, ed. Across Space and Time: Architecture and Politics of Modernity. New Brunswick, N.J. : Transaction Publishers, 2017.
Review of Jennifer Cash, Villages on Stage: Folklore and Nationalism in the Republic of Moldova (Munich: LIT Verlag Münster, 2011), in Journal of American Folklore 128, no. 508 (Spring 2015): 228-230.
"Slovenian Industrial Design and Folk Crafts under Yugoslav State Socialism: (Non)-Intersections of the Yugoslav Socialist Modern and the Slovenian Traditional. Centropa 14, no. 3 (2014): 260-272.
Review of Bogomil Ferfila with Paul Phillips, Slovenia's Transition: From the Medieval Roots to the European Union (Lanham: Lexington Books, 2010), in Austrian History Yearbook  43 (2012): 193-194.
"Ethnological Knowledges and their Political Contexts." Invited Response Article. Journal of Folklore Research 47, nos. 1/2 (2010): 153-160.
"Notes from the Field: Contemporary Folkways in Slovenia: Personal Practices of Commemoration at Cemeteries, Public Monuments, and Unmarked Mass Graves." Folklorica 15 (2010): 155-160. 
"To Develop the Morally Acceptable: A Slovenian Urban Landscape Under Yugoslav Socialism." Traditiones: Zbornik inštituta za slovensko narodopisje 34, no. 2 (2005): 7-22.
"The Architecture Of Vernacular Subjectivities: North American And Slovenian Perspectives." Journal of Folklore Research 42, no. 1 (2004): 1-32.
"Authentically Socialist: Czech Heritage Management at the Former Liechtenstein Estate of Lednice-Valtice." Focaal: European Journal of Anthropology 44 (2004): 61-71.