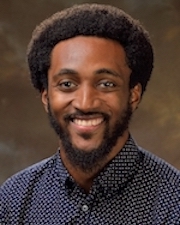 Jalil Mustaffa Bishop
Vice-Provost Postdoctoral Scholar
Graduate School of Education
University of Pennsylvania
Phone:
Professional Biography
Jalil Mustaffa Bishop joined the Higher Education division in 2018 as a Vice-Provost Postdoctoral Scholar and Lecturer. Dr. Bishop uses mixed methods to understand lived experiences and introduce uncommon connections to the field of education. His research agenda and teaching focus on how education pathways are structured through race, class, and place and the ways marginalized Black communities challenge and build power.
Currently, he is affiliated with the Hub for Equity, Anti-Oppression, Research, and Development (HEARD) and the Alliance for Higher Education and Democracy (AHEAD) at Penn GSE.
Research Interests and Current Projects
Dr. Bishop's research agenda focuses on studying the role of racism and anti-racism in higher education through the institutional system's connections to K-12 inequality and its intersections with societal inequities. He employs community-engaged, qualitative, historical, and policy-oriented research methods coupled with critical theory to question the extent to which education pathways are or can be a social equalizer, particularly for Black students and communities. His published work has examined how marginality is contested in college students' experiences through the lens of higher education history, student activist coalition building, and racial battle fatigue on campus.
His dissertation and current line of research focus on the geography of education opportunity. This scholarship documents how the underdevelopment of Black communities is connected to Black students' uneven education opportunity before, during, and after college enrollment. He seeks to answer not just where education opportunity is located, but also the power dynamics in policy and institutional practices that unevenly distribute opportunity. He is revising his dissertation into publications that highlight Black students' precarity in higher education, how neighborhood divestment fosters issues with college affordability and student loan repayments, and the ways Black communities (re)negotiate the promises of education opportunity.
Dr. Bishop has two ongoing research projects:
Connecting Education and Community Advancement: This project is a participatory action research study that works with local community organizations in Northeast Ohio to create a higher education and career access program for residents, wherein those who participate also contribute to community organizing.
(R)evolving Studies of Race in Higher Education: This project is a meta-analysis on race-related articles in seven higher education journals. This analysis spans the entire publication history of the following journals: The Review of Higher Education, The Journal of Higher Education, Research in Higher Education, Journal of Student Development, Journal of Student Affairs Research and Practice, Community College Journal of Research and Practice, and Community College Review. Findings will be able to historicize and synthesize how studies of race and racism have (r)evolved over time and propose new and understudied topics and methods in the field of higher education.
In addition to his research, Dr. Bishop intentionally remains connected to the student groups and communities he studies. He has served in multiple education programs and centers focused on increasing the success of students of color in higher education and transition to careers post-graduation. His background in anti-racism praxes, equity-driven change, and coalition building has allowed him to work with K-12 schools, community colleges, policy think tanks, and community-based organizations.
Education
Ph.D. (Higher Education and Organizational Change) University of California, Los Angeles, 2018
M.A. (Higher Education and Organizational Change) University of California, Los Angeles, 2015
B.A. (History) Dartmouth College, 2014
Areas of Expertise
Geography of educational opportunity
College access and equity
Community-engaged action research
Structural racism & racial capitalism
Student activism
Critical theories of power
Selected Publications
Mustaffa, J. B. (2017). Mapping violence, naming life: A history of anti-Black oppression in the higher education system. International Journal of Qualitative Studies in Education, 1-18.
Mustaffa, J. B. (2017). The school system is rooted in whiteness in the way it determines who has value and who doesn't. Afropunk Blog, 1-5.
Smith, W. A., Mustaffa, J. B., Jones, C. M., Curry, T. J., & Allen, W. R. (2016). 'You make me wanna holler and throw up both my hands!': Campus culture, Black misandric microaggressions, and racial battle fatigue. International Journal of Qualitative Studies in Education, 1-21.
Mustaffa, J. B., Mayorga, O. (In Press). The coalitional factors that sustain student activism. In A. Dache-Gerbino, C. Linder, K. McGuire, & S. John Quaye (eds.), Rise Up! Activism as education. Michigan State University Press, 1-24. 
Mustaffa, J. B. (revise and re-submit). The freedom of Blackness: How my racial legacy freed me from American stereotypes. In A. Garrod (ed.), Souls looking back: Life stories of growing up Black, 1-22.
Palmer, R., Mustaffa, J. B. (under review). Addressing heteronormativity at historically Black colleges and universities: The role of the student affairs professionals. In R. L. Pope, A. L. Reynolds, & J. A. Mueller (eds.), Developing multicultural competence for inclusion and social justice, 2nd ed. San Francisco: Jossey-Bass.