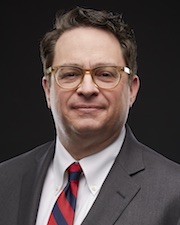 Peter Eckel
Senior Fellow and Director of Leadership Programs
Graduate School of Education
University of Pennsylvania
Phone:

215-573-4342
Professional Biography
Peter Eckel's two-decade career as a scholar/practitioner focuses on understanding and strengthening higher education administration, management, and governance. Dr. Eckel has worked with hundreds of college, university and state system administrators, faculty, and trustees on issues such transformational change; student learning and educational quality; diversity and equity; academic leadership; presidential transitions; academic joint ventures/partnerships; internationalization; shared governance; institutional entrepreneurialism; administrative teamwork; and effective trusteeship.
Dr. Eckel joined Penn GSE as a Senior Fellow and Director of Leadership Programs with the Alliance for Higher Education and Democracy (Penn AHEAD). Prior to joining Penn GSE, he served as Vice President for Programs and Research at the Association of Governing Boards of Universities and Colleges (AGB) and held several positions at the American Council on Education (ACE), including ending his tenure there as Director of the Center for Effective Leadership. He led AGB's National Conference on Trusteeship and developed its offerings for international trustees and leaders. He created AGB's presidential agenda to strengthen presidential leadership through effective governance, and led the design of AGB's Institute for Public University Presidents and Board Leaders. At ACE, he was the founding director of numerous leadership programs, including the ACE Institute for New Chief Academic Officers, the Advancing to the Presidency workshop, the CAO-CBO Strategic Partnership workshop, and the ACE Presidential Roundtable Series. He has worked internationally on leadership, governance, and institution change in Malaysia, India, Saudi Arabia, South Africa, the U.K., and Kazakhstan.  
He additionally serves as trustee at the University of La Verne (CA), serving on the academic and student affairs, finance, enrollment, and governance committees.
Research Interests and Current Projects
Dr. Eckel's research efforts focus on bridging theory and practice as it relates to governance, leadership, and change management. He co-directs the Penn Project on University Governance, with Matthew Hartley, and is working with colleagues on developing tools to help boards to understand their cultures, which are often invisible to those immersed in them, and make them transparent and therefore actionable.
Much of his current work has him working directly with university trustees, senior administrators and faculty leaders. Recent consulting activities including Brown University, Claremont Graduate University, Seton Hill University, The Johns Hopkins University School of Education, and the University of Vermont College of Education and Social Services, among others.
On the international level, Dr. Eckel is one of the leaders of the capacity-building work for the newly created Nazarbayev University and its Graduate School of Education (NUGSE). Along with colleagues at Penn and Cambridge University (UK), Dr. Eckel is working to help NUGSE develop a culture of research and create the infrastructure to support a research university with world-class aspirations. Through that effort he is collaborating with NUGSE colleagues on research to map global governance trends, understand the barriers to effective governance, and explore issues of governance and management in newly autonomous universities.
Dr. Eckel is further involved in preliminary work related to advancing the ideas of strategy in higher education. Institutions invest a tremendous amount of their very scarce time and money in traditional planning activities that seem to constantly fall short of expectations. By bringing new ideas to this perennial challenge, can universities be more effective and efficient in charting their futures?
Education
Ph.D., Higher Education Policy, Planning and Administration, University of Maryland, College Park
M.A., Counseling and Personnel Services - College Student Personnel, University of Maryland, College Park.
B.S., Journalism, Michigan State University
Areas of Expertise
Leadership and Management
Higher education governance and trusteeship
Change management; academic program discontinuance
Leadership development
Higher education trends 
Co-written with Cathy Tower, Practical wisdom: Thinking differently about college and university governance
Co-written with Adrianna Kezar, Taking the reins: Institutional transformation in higher education
Eckel, P. D., & Trower, C. A. (2019). Practical Wisdom: Thinking differently about college and university governance. Sterling, VA: Stylus.   
Eckel, P. D., & Trower, C. (2016, Nov.). Boards and institutional diversity: Missed opportunities, points of leverage. New York: TIAA Institute.
Eckel, P. D. (2016). Institutional governance for a shared glocal engagement mission. In Higher education in the world 6: Towards a socially responsible university: Balancing the global with the local. Barcelona, Spain: Global University Network for Innovation. 
Eckel, P. D., & Kezar, A. (2016). The intersecting authority of boards, presidents and faculty: Toward shared leadership. In M. N. Bastedo, P. G. Altbach, & P. J. Gumport (Eds.), American higher education in the twenty-first century. 4th Edition. Baltimore, MD: Johns Hopkins University Press, pp. 155–187.
Eckel, P. D., Hartley, J. M. & Colleagues. (2015). Describing the statutory status of U.S. and Kazakhstani universities. Kazakhstan: Nazarbayev University/Ministry of Higher Education. 
Eckel, P. D. (2013, November/December). What presidents really think about their boards. Trusteeship, 6–13.
Eckel, P. D., & Hignite, K. (2012). Finding the right prescription for higher education's ills: Can health care provide answers? Washington DC: National Association of College and University Business Officers (NACUBO).
Eckel, P. D., & Kezar, A. (2011, 2003). Taking the reins: Institutional transformation in higher education. Westport CT: ACE/Praeger (re-released 2011).
Eckel, P. D., & Hartley M. (2011). Presidential leadership in an age of transition: Dynamic responses for a turbulent time. Washington DC: American Council on Education.
Eckel, P. D. (2009, 2003). Changing course: Making the hard decisions to eliminate academic programs. Lanham, MD: Rowman and Littlefield. (Published 2003 Westport, CT: Praeger Higher Education Series) (re-released 2009).
Morphew, C., & Eckel, P. D. (Eds., 2009). Privatizing the public university: Perspectives from across the academy. Baltimore: MD. The Johns Hopkins University Press.
Eckel, P. D., Cook, B. J., & King, J. E. (2009). The CAO census: A national profile of chief academic officers. Washington DC: American Council on Education.
Eckel, P. D., & Hartley, J. M. (2008). Developing academic strategic alliances: Reconciling multiple, institutional cultures, policies, and practices. The Journal of Higher Education, 79, 613–637.
Eckel, P. D. (2008). Mission diversity and the tension between prestige and effectiveness: An overview of U.S. higher education. Higher Education Policy, 21, 175–192.
Kezar, A., Eckel, P., Contreras-McGavin, M. & Quaye, S. (2008). Creating a web of support: An important leadership strategy for advancing campus diversity. Higher Education, 55(1), 69–92.
Eckel, P. D. (Ed., 2006). The shifting frontiers of academic decision making: Responding to new priorities, following new pathways. Westport CT: ACE/Praeger.
Kezar, A., & Eckel, P. D. (2004). Meeting today's governance challenges: A synthesis of the literature and examination of a future research agenda. The Journal of Higher Education, 75, 371–399.
Kezar, A., & Eckel, P. D. (2002). The effect of institutional culture on change strategies in higher education: Universal principles or culturally responsive concepts? The Journal of Higher Education, 73, 435–460.
Eckel, P. D. (2000). The role of shared governance in institutional hard decisions: Enabler or antagonist? Review of Higher Education, 24, 15–39.
Kezar, A., & Eckel, P. (Eds., 2000). Moving beyond the gap between research and practice in higher education. New Directions for Higher Education, No. 110. San Francisco: Jossey-Bass.