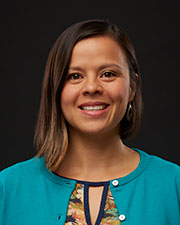 Lori Ann Noll
Associate Director, Urban Teaching Residency
Graduate School of Education
University of Pennsylvania
Phone:

215-898-2360
Professional Biography
Dr. Lori Noll is the Associate Director of the Urban Teaching Residency. She has taught at the high school, undergraduate, and graduate school levels. Her recent courses focus on academic writing, as well as on issues of equity, pedagogy, and the social and cultural contexts of schooling in urban education.
She earned her doctorate in Education Leadership at the University of Pennsylvania Graduate School of Education. Before matriculating to Penn, Dr. Noll was a public school teacher, and worked in various non-profit organizations that focused on education and social justice, including Art for Change and Harlem Children's Zone. While pursuing her studies, she coached and mentored first-year teachers in Philadelphia public schools as they earned certification, as well as provided support and professional development for teacher-mentors. Taken together, Dr. Noll has over 15 years of experience working with students and teachers in high-needs schools.
Research Interests and Current Projects
Dr. Noll's professional, teaching, and research interests coalesce along two related themes: 1) preparing effective and culturally responsive educators for urban contexts, and 2) the intersection of race, class, and opportunity structures in urban schooling. As such, current projects examine how teacher training and supports influence the experiences and practices of alternative route teachers, as well as how high school seniors make decisions about college in college preparatory charter schools.
Education
Ed.D. (Education Leadership) Graduate School of Education, University of Pennsylvania, 2017
M.S.Ed. (Secondary English Education) Queens College, 2006
B.A. (English) University of San Francisco, 2002
Areas of Expertise
Access and equity
Urban education
Teacher education
Social/cultural context of schooling