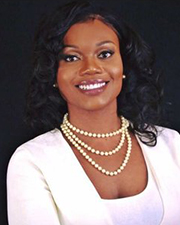 Atiya Strothers Love
Vice-Provost Postdoctoral Fellow
Graduate School of Education
University of Pennsylvania
Phone:

.
Professional Biography
Dr. Atiya Strothers Love is a postdoctoral fellow for academic diversity through the Office of the Vice Provost for Research. She is also a research associate at the Penn Center for Minority Serving Institutions. In these roles, Dr. Love seeks to provide a voice at the table of research and policy for those whose voices are not often heard. As a first-generation college graduate from the inner city of Philadelphia, she is passionate about educational equity and is driven by the desire to push her research beyond the academy and strengthen the link between research evidence, policymaking, and practice.
Dr. Love has presented her work relating to this research at national conferences including AERA, ASHE, HES and AABHE. She was selected to serve on the AERA panel discussing The Next 100 years of Doctoral Preparation in Education, and also served as the senior graduate representative for AERA Division F. Dr. Love's work has been published in Diverse Issues in Higher Education, Peabody Journal of Education, and various book chapters.
She has previous experience as an administrator in student affairs at the University of Maryland, Baltimore County; Rutgers University, The State University of New Jersey; and the University of Delaware. She received her B.S. in Business Administration from the University of Pittsburgh and a Ph.D. and Ed.M. in education from Rutgers University, where she was honored as a Samuel DeWitt Proctor Fellow. She is a member of Delta Sigma Theta Sorority, Inc., and an alumna of Education Pioneers.
Research Interests and Current Projects
Dr. Love's research explores unique approaches in faculty recruitment, retention, and inclusion. She investigates the pipeline of graduate education and the influence of mentorship and campus climate on marginalized populations.
As a social justice advocate, Dr. Love is passionate about education, spirituality, and leadership. She uses historical and qualitative inquiry to address the social, political, and institutional influences on educational equity, inclusion, and justice. Her research is linked to the exploration of 'moral incubators' within individuals and institutions and how this core influences, produces, and promotes resilience, inclusivity, and authenticity within higher education
Education
Ph.D. (Theory, Organization, & Policy in Education) Rutgers, The State University of New Jersey
Ed.M. (Social & Philosophical Foundations of Education) Rutgers, The State University of New Jersey
B.S. (Business Administration) University of Pittsburg
Areas of Expertise
Faculty recruitment, retention, and inclusion
Equity and Leadership in higher education
Spirituality, faith, and education
Historically marginalized populations
Selected Publications
Murphy, J. P., Strothers, A. S., & Lugg, C. A. (2017). Jersey-style neoliberalism: Governor Christopher Christie, crony capitalism, and the politics of K–12 education. Peabody Journal of Education, 92(1), 115–126.
Strothers, A. S. (revise & resubmit) 'Trust the process': The Samuel DeWitt Proctor mentorship model for African-American doctoral students. Teachers College Record.
Strothers, A. S. & Lugg, C. (2017). The resurrection of educational leadership: Lessons from Rev. Dr. Samuel DeWitt Proctor. In T. Normore & J. Brooks (Eds.), Leadership lessons: Great thinkers on equity, justice and education. New York, NY: Teachers College Press.
Strothers, A. (November 2016). 'One of proctor's boys': Storytelling and the making of Black faculty at Rutgers University, 1969–1984. Paper presented at History of Education Society, Providence, RI.
Strothers, A. (March 2016). Black faculty matter: A community of practice approach to faculty diversity. Paper presented at Harvard University Student Research Conference.
Strothers, A. S. (2014). White faces in Black places: HBCUs and the White faculty experience. In M. Gasman & F. Commodore (Eds.), Opportunities and challenges at Historically Black Colleges and Universities. (pp. 75–89). New York, NY: Palgrave Macmillan.
Leyva, L., & Strothers, A. (2013, November). From "acting White" to "girl talk:" An analysis of race/gender mathematical learning identities among first-year African American & Latino college students. Paper presented at the annual meeting of the Association for the Study of Higher Education, St. Louis, Missouri.